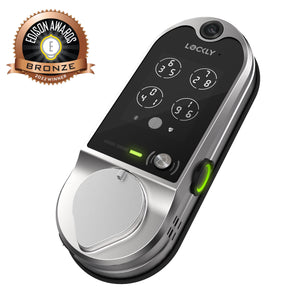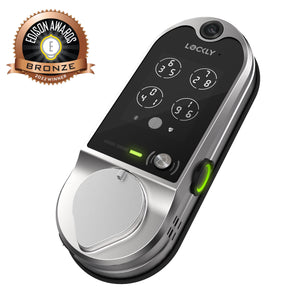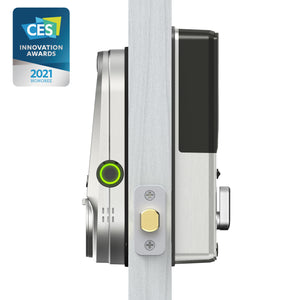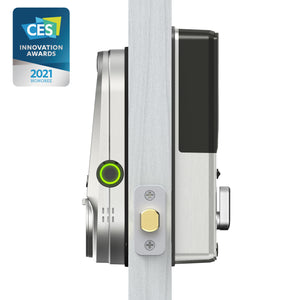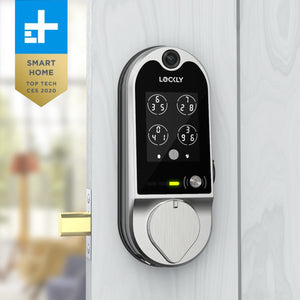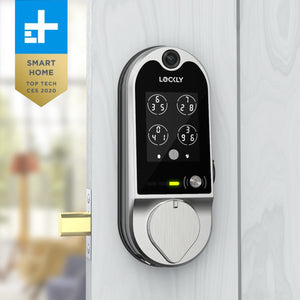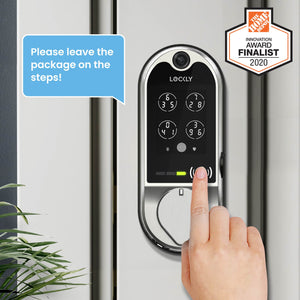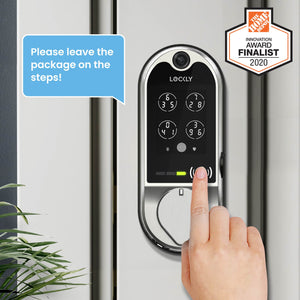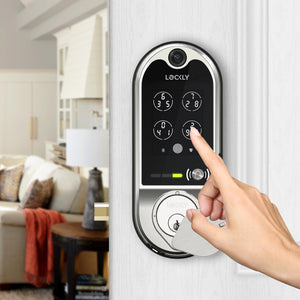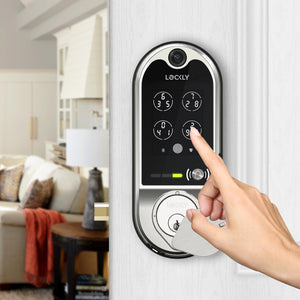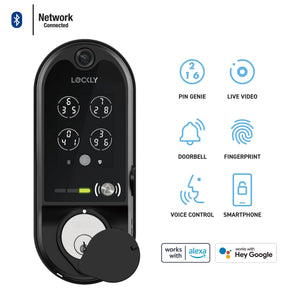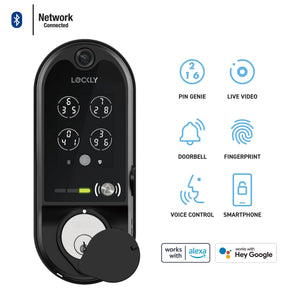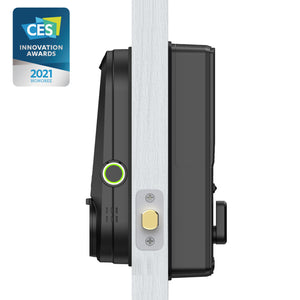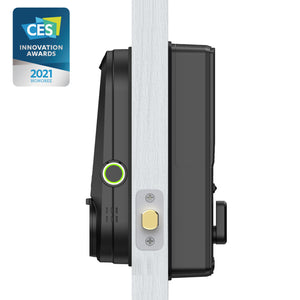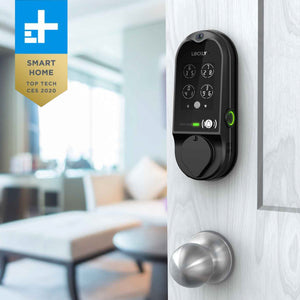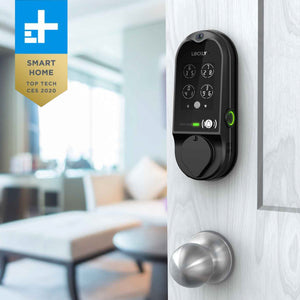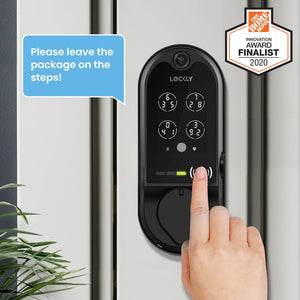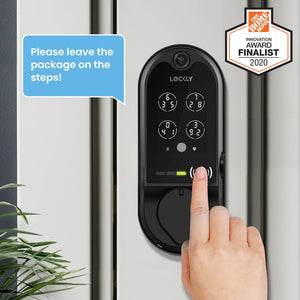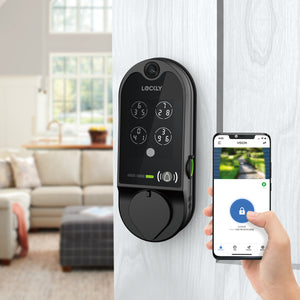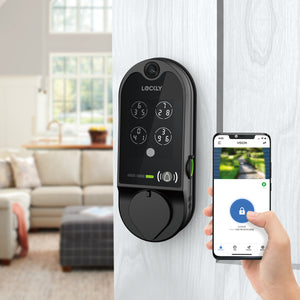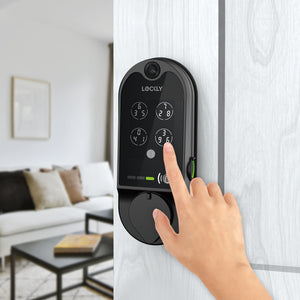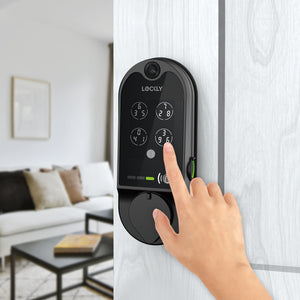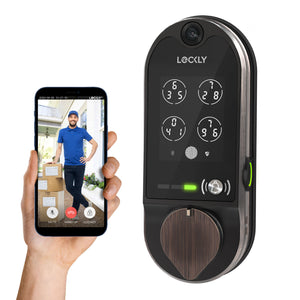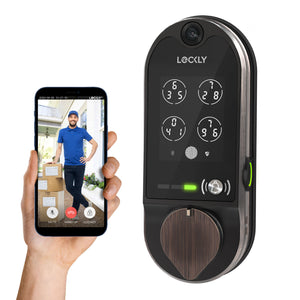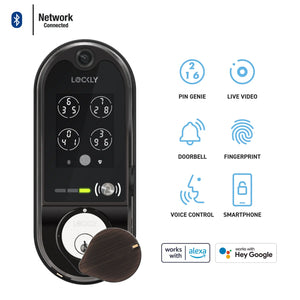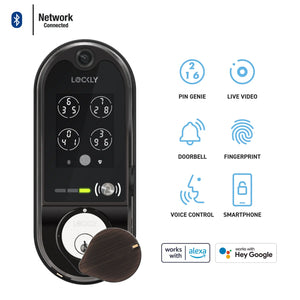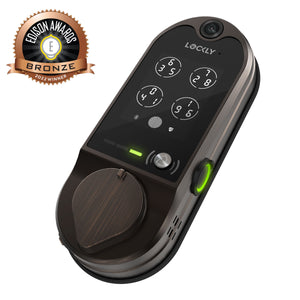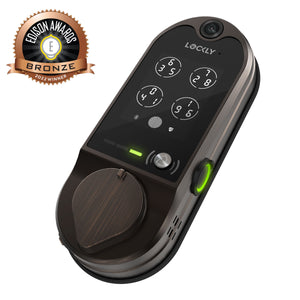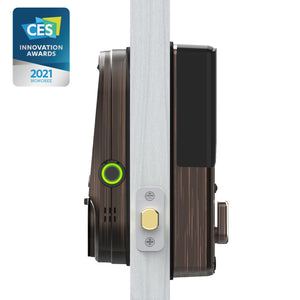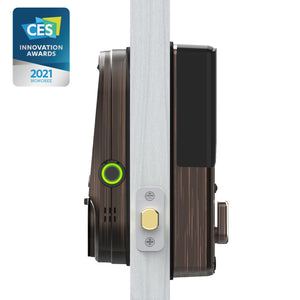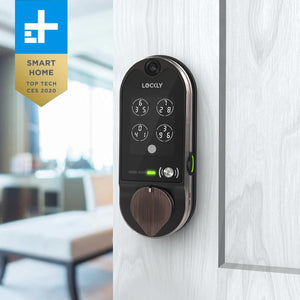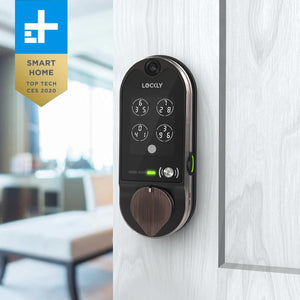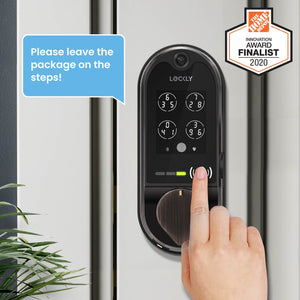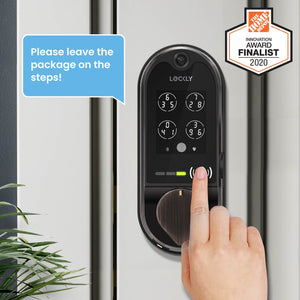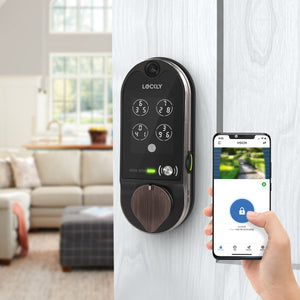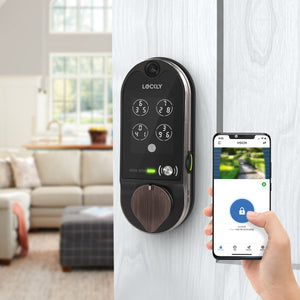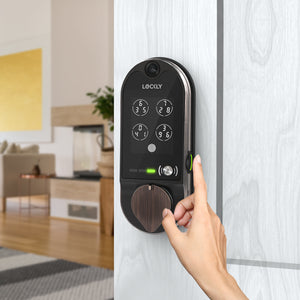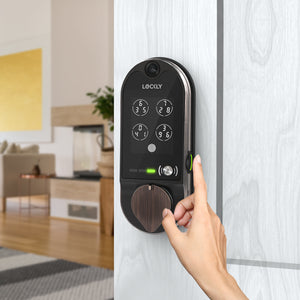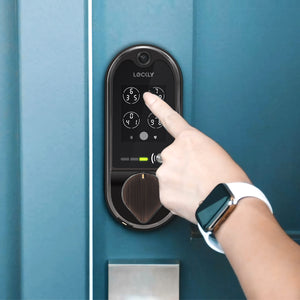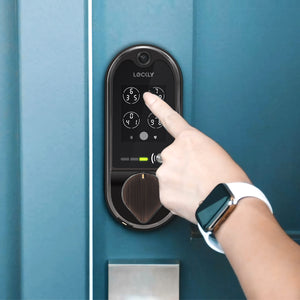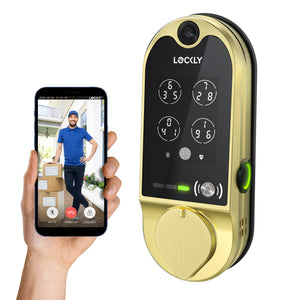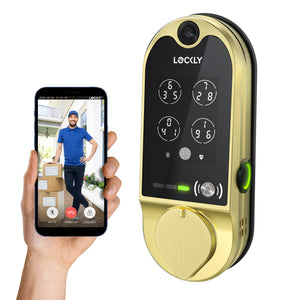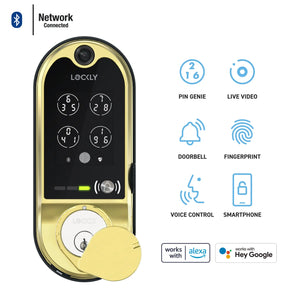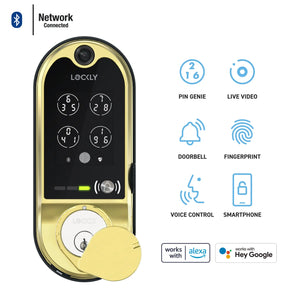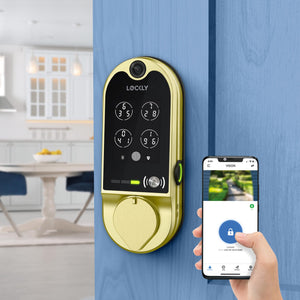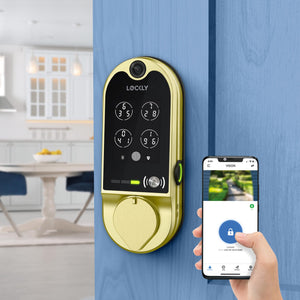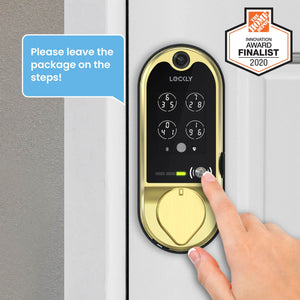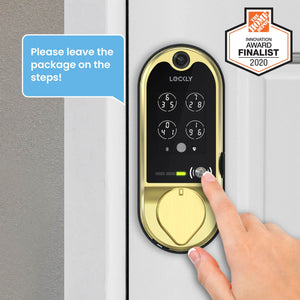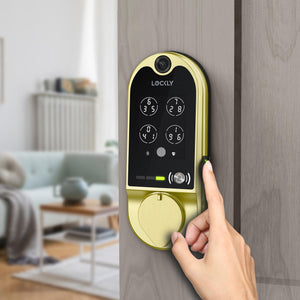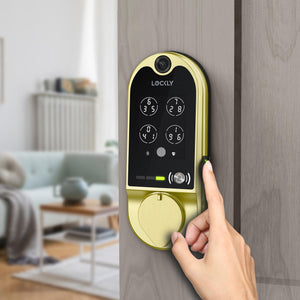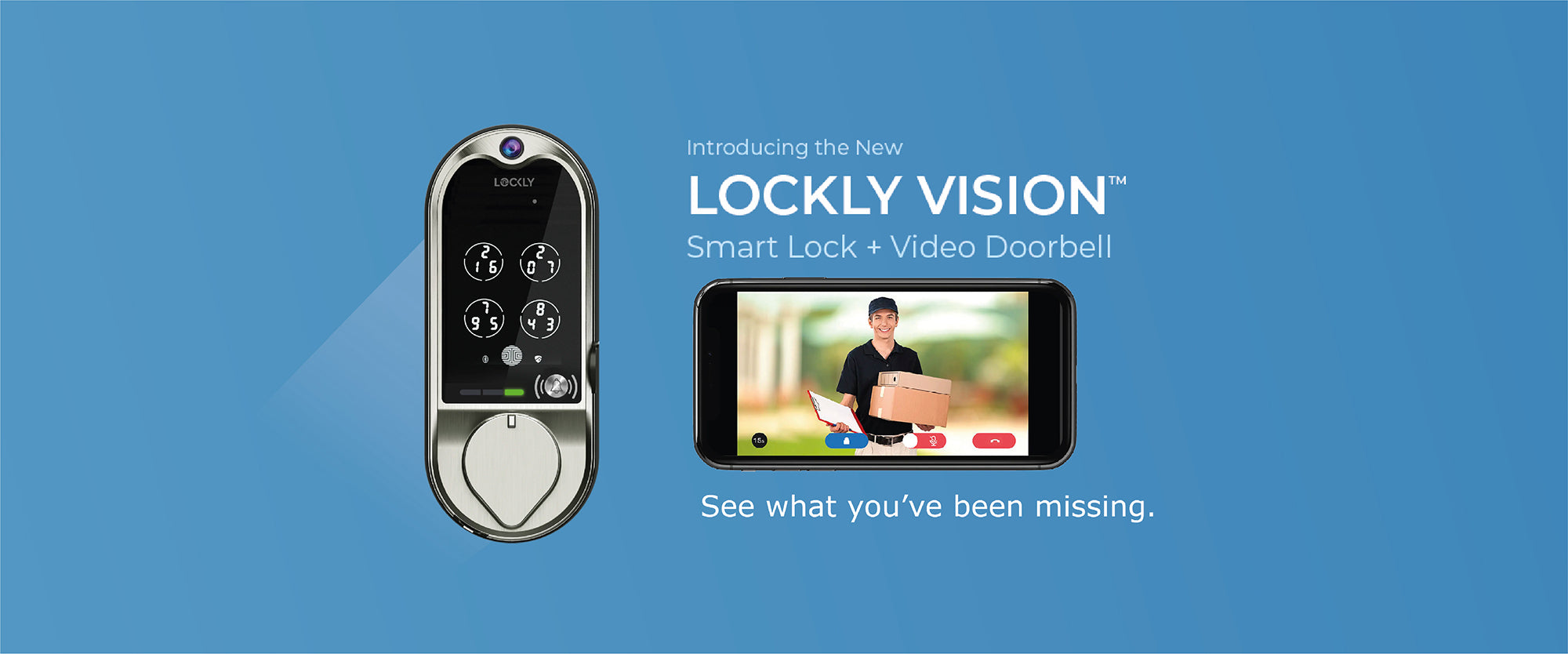 Meet the world's most advanced smart lock that's also a video door bell.
Lockly Vision™ is a revolutionary new smart lock with a built-in HD video door­bell that combines Lockly's award-winning smart lock features and technology with the convenience and security of today's most popular video doorbells.
Live video monitoring and recording.
Know who's at your door with live view camera streaming real-time high-resolution video to your smartphone. Recordings are stored on the included SD memory card where they are private, safe and secure.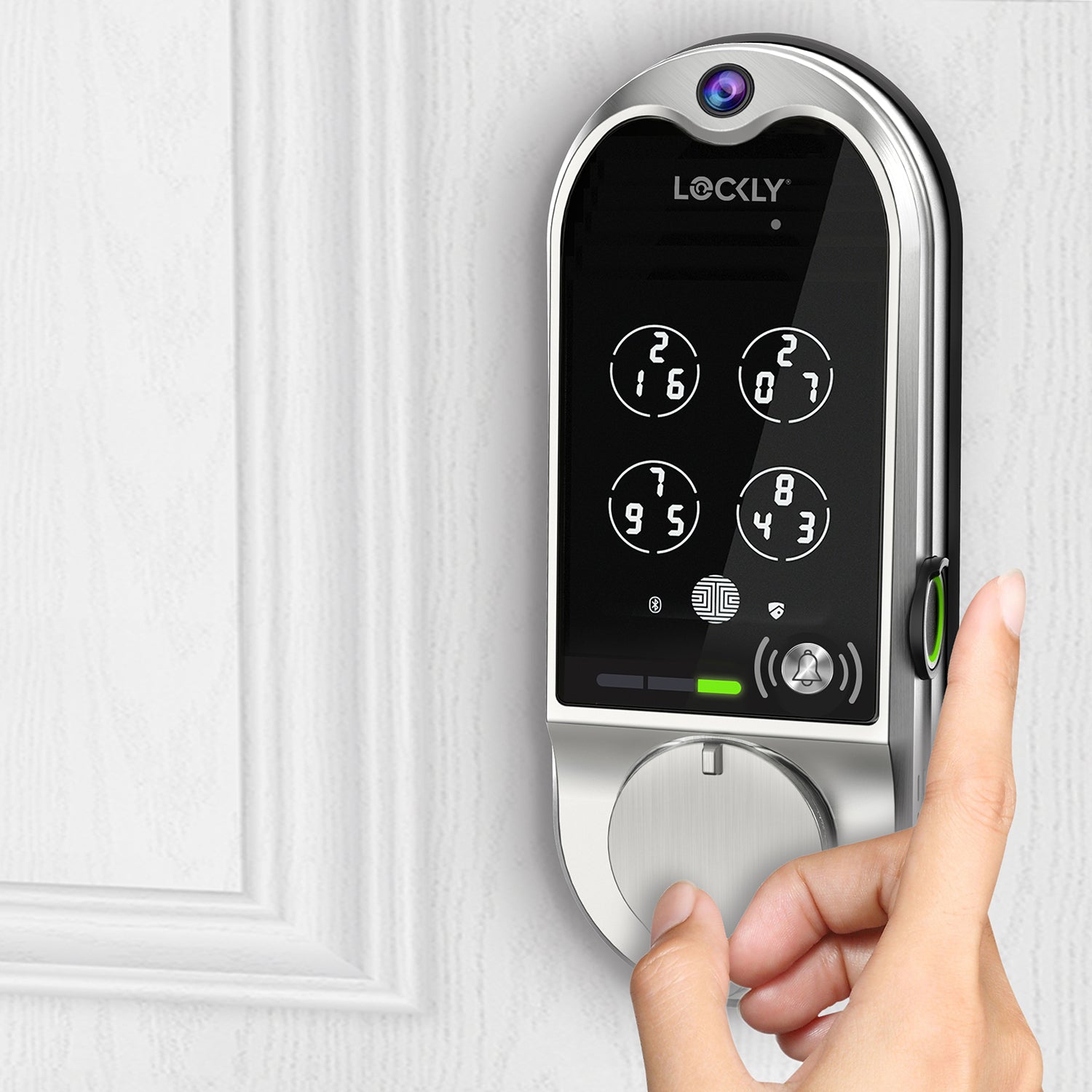 Your finger is your key.
3D Biometric fingerprint sensor is unlike other optical readers that can easily be tricked by using images of fingerprints.
Peek-proof digital keypad.
Patented PIN Genie® touchscreen prevents codes from being guessed by randomly shuffling PIN number locations.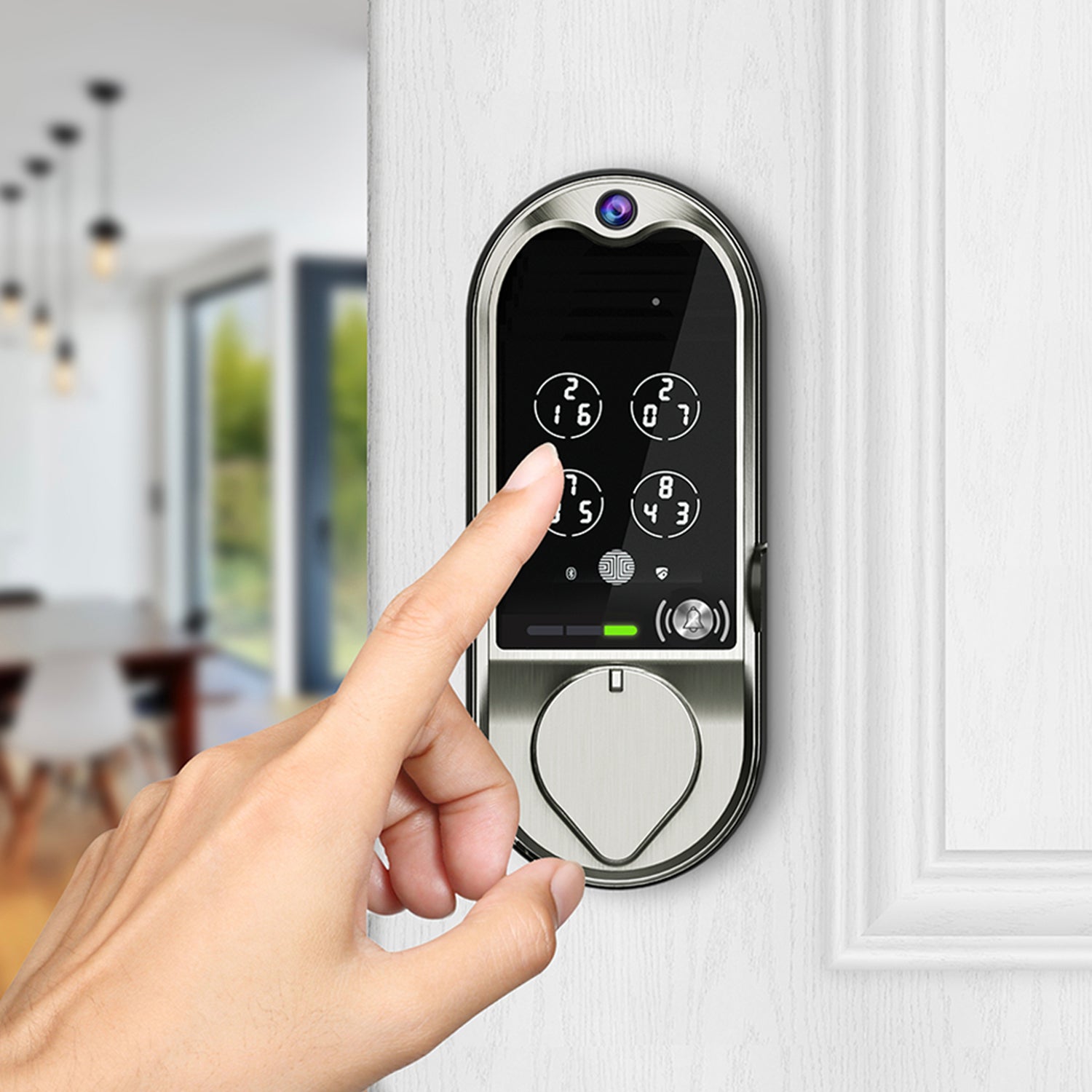 Security and control from anywhere.
Remotely lock and unlock your door or simply check status from anywhere using the Lockly mobile app.

Smart home ready.
Control and check your lock status by using your voice through Amazon Alexa or Google Assistant.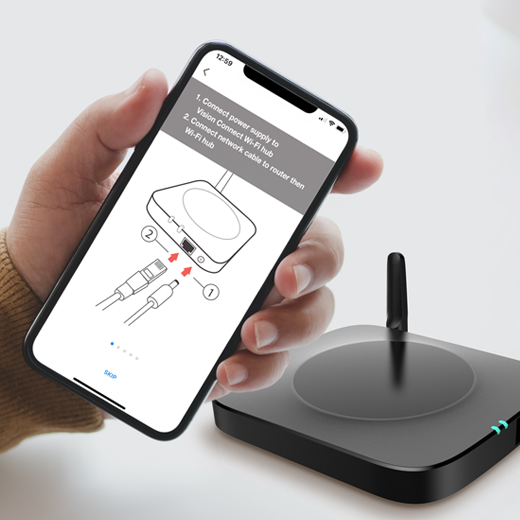 Plug-n-play Internet connect.
Plug-n-play Internet access hub seamlessly discovers the network and establish a connection in just minutes, all through the convenience of your smartphone.
Features

Lockly
Vision™
AUGUST
Pro Connect
Nest X Yale
With Nest Connect

HD Video Camera with Live View

✔

–

–

Doorbell with Unlocking

✔

–

–

2-Way Audio

✔

–

–

Secure Internal Video Storage

✔

–

–

Offline Access Codes™

✔

–

–

Voice Assistant Control

✔

✔

✔

Advanced 3D Fingerprint Reader

✔

–

–

PIN Genie® Touchscreen Keypad

✔

–

–

Unlock/Lock From Anywhere

✔

✔

✔

Real-Time Door Access Info

✔

✔

Grant Temporary eKeys

✔

✔

✔

Unlock with Physical Key

✔

✔

-
Rated

4

out of

5
by
Hunter3141
from
Well done
Pros: Great setup/ installation instructions, well written and easy to follow Well made parts, good fit and finish Screen is easy to see Lock action is very fast Video is good quality Easy to add adult fingerprints Easy to lock on the way out Cons: No Kwikset compatibility App still a little clunky ( I'm sure this will improve over time) Video function requires a base station ( just another thing I have to plug in somewhere) Very difficult to add child's fingerprints to lock and subsequent unlocks ( the main reason I wanted this lock) Would like the option to have a shorter pass code (again for the kid factor)
Date published: 2020-06-27
Frequently Asked Questions
>

Is my information private?

At Lockly, your privacy is our top priority. There is TF card that comes with the packaging without additional charges. The TF card is your own private local storage that will not share with anyone else.

Everything you need comes in the box Lockly Vision Accessory 2 Back-up keys Activation Card Vision Connect Hub 8G TF Card Door Sensor Installation and User Manual

Video Monitoring and Recording See who's at your front door with Live View camera streaming, real-time high-resolution video from your smartphone. Video recordings are stored locally with no monthly fees. Patented Anti-Peep PIN Genie® Keypad Digits are randomly displayed on the keypad ensuring access codes to be undetectable to intruders after repeated use. Numbers are randomly distributed across 4 buttons, with 3 numbers in each button. Users can press any button showing their number. Location of the numbers are always different everytime someone uses the keypad, making it hard for prying eyes to guess the correct code. Multiple Access Codes & Monitoring Store up to 16 Access Codes for family, friends and guests, as well as monitor entry and exit records. Advanced 3D Fingerprint Recognition Biometric Fingerprint Recognition protocol allows up to 99 registered fingerprints to be used and accepts only actual fingerprints - preventing lifted prints from being used. Live Monitoring and Voice Assistant Control Through your smartphone, monitor door access from anywhere in the world and securely control who comes and goes. You can also control your Lockly® smart lock using your voice through Amazon Alexa and the Google Home Assistant. Complete Privacy The exterior displayed keypad can be locked and switched off using the simple ON/OFF toggle from the inside panel. The owner can prevent others trying to input the passcode from the outside and entering the home. Offline Access Code™ (OAC) The offline access code can allow owners to issue access codes, set the allowed access duration, all without Lockly® ever connecting to the internet, so in case of power outage, you can still magically and remotely issue Access Codes without any connection to the web. Auto-Lock Users no longer have to worry about forgetting to lock the door. With Auto Lock enabled, Lockly® will automatically auto-lock the door based on your customized time setting. Tamper Proof Keyhole and 9V Battery Socket The door can be opened with physical backup keys. Receive notification whenever there's an attempt to tamper your lock. There is also a 9V battery connection socket for emergency power backup to access the keypad in case your smart lock runs out of battery.

Exterior Assembly 2.83 x7.01 x 1.44 inches/72x 178 x36.65mm Interior Assembly 3.14 x7.79 x 2 inches

>

Can I install myself (DIY) ?

Sure. We have all the help you need to get your Lockly Vision up in minutes. We have step-by-step interactive videos on BILT app and our customer service team is always here to help however we can. Please feel free to email us at help@lockly.com and call us at 669 500 8835.

This product comes with a Limited 5-Year Mechanical & Finish Warranty and 2-Year Electronics Warranty & Lifetime Technical Support. More information about this warranty can be found at https://lockly.com/pages/limited-warranty.

>

Can the lock be installed on outdoor gates?

We do not recommend any Lockly smart locks be installed outdoors on any type of doors or gates exposed directly to sun, rain or snow.
Get help from a Lockly expert.
OnTech Smart Services is our trusted partner for Smart Home installations. Get any Lockly smart lock professionally installed starting from $129. They'll take care of everything, personalize it to your needs and teach you how to use it.
BOOK YOUR INSTALL >